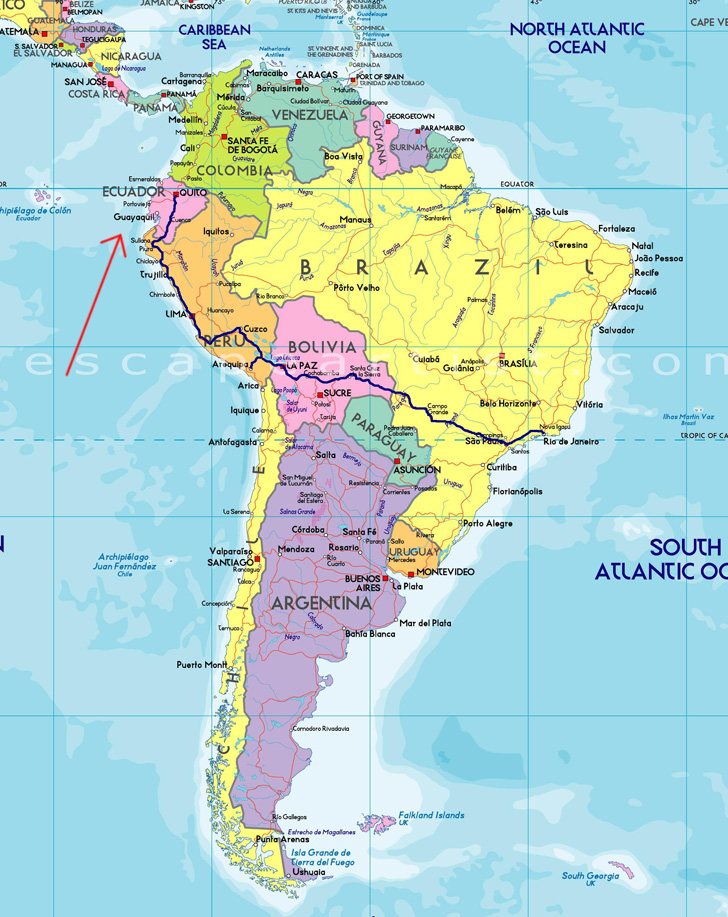 Every year I try and do at least two 8+ day surf trips. One is a slam dunk to Mexico and the other is reserved for a new destination. This year we chose to check out Ecuador. The most common reaction was, "Are there are waves in Ecuador?" Rest assured, there is plenty of surf down there and some very cool coastal setups. The key ingredient to success is knowing where to go on what tide and what swell direction. Blindly choosing a spot will leave you frustrated and confused. I highly recommend using a guide service, and in particular, Robbie's guys!
Our group flew into Ecuador by way of LAX to go surfing and checkout the Country first hand. The owner Robbie put us up in the penthouse suite, which was spectacular. It is basically the equivalent of the Ritz Carlton, (of Montanita). Perched up on the side of a hill, it was spacious, clean, and offered up unbelievable, panoramic views of the city below and the ocean. We also had all the creature comforts of home such as Direct TV, top notch AC and super speedy WIFI.
It is a 3-minute walk to get into town and 5 minutes until your toes are in the sand. ME also has a couple of nice swimming pools and Jacuzzis as well. They boast a comfortable, well decorated, restaurant/bar within the compound that offers up some tasty food and killer cocktails, (all reasonably priced and convenient). Robbie is basically like the Mayor of Montanita and can and will point you in the right direction as far as which restaurants are best and what places you should check out.
If you're going surfing, there's no other place you'd want to stay. With a rocky, uneven coastline and 16 foot tidal changes, local knowledge is everything and the Tour Guides he set us up with were on it. They knew everyone in the water and through their local network of lookouts, put us on the best surf available. We felt safe with these guys and ended up leaving them as new found friends, (and remain in touch with them). Now that I know what to expect I will return soon in the high season, (winter months), when the winds are predominately offshore and large, long interval NW swells roar into town. Can't wait to get back down there! If you haven't been to Ecuador add it on your bucket list!
Ecuador has many beaches to offer quality surfing. The coast of Ecuador is 2,237 km (1,390 miles) long.
Mainland Ecuador offers a multitude of accessible sandy beach barrels through to long points and reefs. They do however share the same exposure to both north and south swells; both will suffer decay before reaching their shores but what does arrive, as a consequence is of high quality, losing much of the short period associated with locally generated swells.
The coast of Ecuador straddles the equator and bulges into the Pacific facing all directions from which swells can be generated. The south coast faces southwest, the central coast faces west and the north coast faces northwest.
The "
Central Coast
" of mainland Ecuador is the 100+ miles of coastline from Salinas in the south to San Mateo in the north. In the middle of this is Montanita – the Surf City of Ecuador. This is a backpacker/surfer outpost with a Bohemian vibe in and out of the water.
Montanita is also home to one of the best right points in Ecuador and is by far the most consistent wave on the coast. It's a barreling right-hander at low tide, and super fun hot dog wave at high tide. Best on north swells, but also works on south swells.
Due to its centralized location, Montanita, is a good place to use as a home base. There are a lot of surf spots and good beach breaks within close range of Montanita. The majority of the surf spots in this area handle both North and South swells and break at almost any size during both low and high tides.
Montanita is a Bohemian surf mecca and party town frequented by international youth and backpackers as well as active lifestyle South Americans. Some of the more popular spots can still be surfed with reasonable crowd levels very early mornings (when a lot of surfers are hungover or just closing the bars).
Located at the northern edge of the Central Coast is the long left point at San Mateo known as the Chicama of Ecuador.
From San Mateo heading to the "
North Coast"
toward the border with Colombia, the coastline makes a dramatic transition from dry desert to wet jungle. There are a few surf spots that are named, and others yet to be discovered. Close to Bahia de Caraquez, Canoa is a stretch of consistent beach breaks and La Bellaca is just another semi-world class left point.
In the far north, just below the city of Esmereldas, Mompiche is one of the best breaks in the country: A very good lefthander with a tubing takeoff over lava rocks and a jungle backdrop. This spot takes strong north swells and usually has good wind conditions.
Hotel sits on 5 acres of land on a hill overlooking Montañita, Ecuador.
2 Hours from Guayaquil airport code GYE, Ecuador's economic capital (Shrimp, Bananas, Oil, Chocolate, Cocoa, Flowers all export from GYE), GYE is city of 3 million
They use the US Dollar
Best flights are generally on COPA through Panama, Avianca or American
Montañita is a town of about 1000 people, known throughout South America for Surf and Nightlife
THE SURF:
Ecuador water temp ranges from 77-82, no wetsuit needed year round
Main Surf season is December – May for North Swells, we also get south swells but they can generally come with more onshore winds
From August – November we often get cloudy days and mist which is called Garua
The best months to visit for few people are Early December before the holidays or April and May after Semana Santa
A crowd for us is anything more than 7-10 people in the water. Jan – March are the most consistent months for glass conditions and all of the waves working although can be a bit more crowded at the main point, La Punta. Other waves in the area including the Ecuadorian Pipeline work best in those months as well, Jan – March are typically uncrowded with less than 10 people in the water
ACCOMODATIONS:
Montanita has 4 point breaks within 45 minutes and 2 points within 10 minutes, there are 2 good beach breaks within a 10-minute drive
The Montanita beach break is a 5-minute walk and point 10-minute walk from the hotel. Driving to the point is 2 minutes
The ME Hotel has 15 hotel rooms and 9 apartments/Villas.
Nexpa Villas – 4 villas with 3 bedroom/2bath
Cloud break Suites – 3 Condos with 2 Bedroom / 2 bath,
ME3 Suites – 2 suites with 1 bedroom 2 bath
Garden/Ocean View Rooms – 10
Ocean View Private Jacuzzi Rooms – 5
Amenities of the hotel
2 pools, 2 Jacuzzis, Spa, Tour Office, Yoga Studio, Restaurant/Bar, Gym, Truck for Guided Surf Tours
Pricing for 7 night all inclusive see more details on the website Details at http://www.montanitaestates.com/surf-tours.html
1 person – $2000 pp, 2 people – $1500 pp, 3-6 people – $1000 pp (for groups of more than 4 a second car must be rented at guest's expense in GYE)
email [email protected]
They do accept credit cards on our website but will confirm availability of guided surf tour via email first
If you have any questions for us feel free to shoot over an email[email protected] or [email protected]