What was the first board you ever shaped…
Scott: The first board I shaped was a 5'3″ twin fin with no rocker, v- bottom, big wide squash tail… and, ugh, it didn't work at all. (laughs)
It's hot. It's California, The South Bay, Marina Del Rey, we're sitting in an outdoor work area in the parking lot outside Scott's shop. A lunch table, lawn chairs, broken templates, the refrigerator kicks on, rattling the discarded blanks stacked against it, some shaped, some partially shaped, none are glassed, various shades of sun stained brown-yellow, all rejects. Tunes blare, a sander whines, a phone rings, nobody answers it, there's an overhead south running and the boss is being interviewed…
Why'd you shape your first board…
I got tired of waiting. Ya know, you order a board and it takes all summer for some guy to get it made. A friend of mine said we should just get a blank and try ourselves. I figured, "Heck I could do this."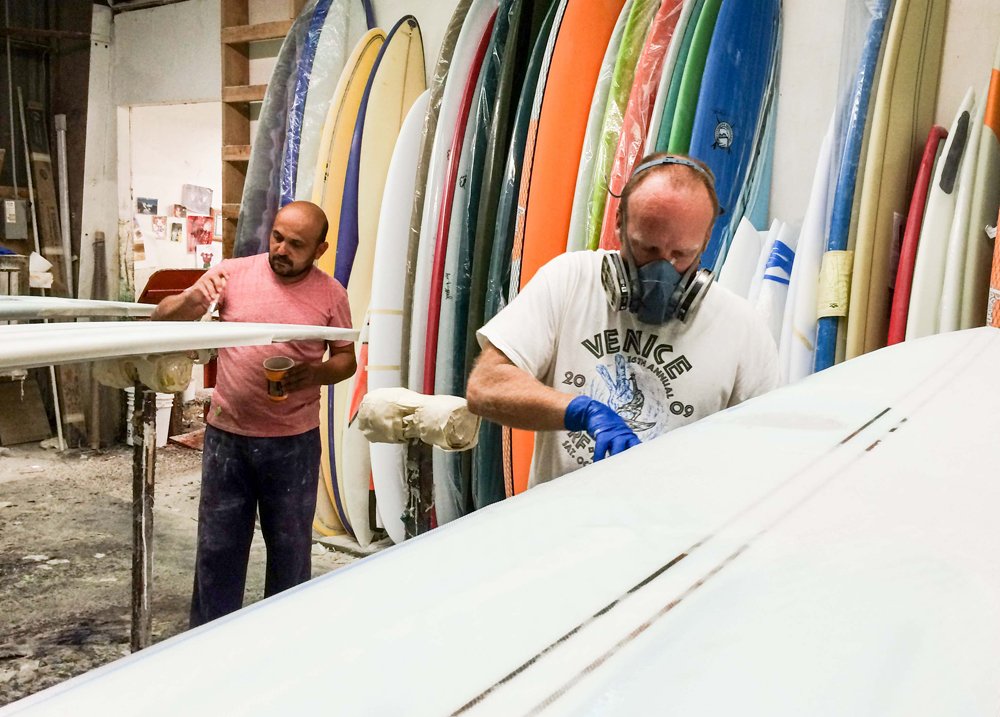 What did you change when you shaped your second board…
We went back to look at what we were riding and tried to figure out why they were working.
What are you riding now…
I'm riding a a 6'4″ trifin, 19 _ wide, flat bottom with a single concave off the tail. It's a mike lamb model it's a big guy's short board, easy to paddle with a lot glide.
What are you building now…

We build pretty much everything. We've branched out in the last few years and are doing a lot of the long board scene. I've been known to make everything from kneeboards to paddleboards. We're not stuck in a rut where we're only doing short boards or only long boards. We can do something for anybody.
What do you need to know about me to make me a board…
I need to know what you're riding now and what you want out of a board. What do you want it to do.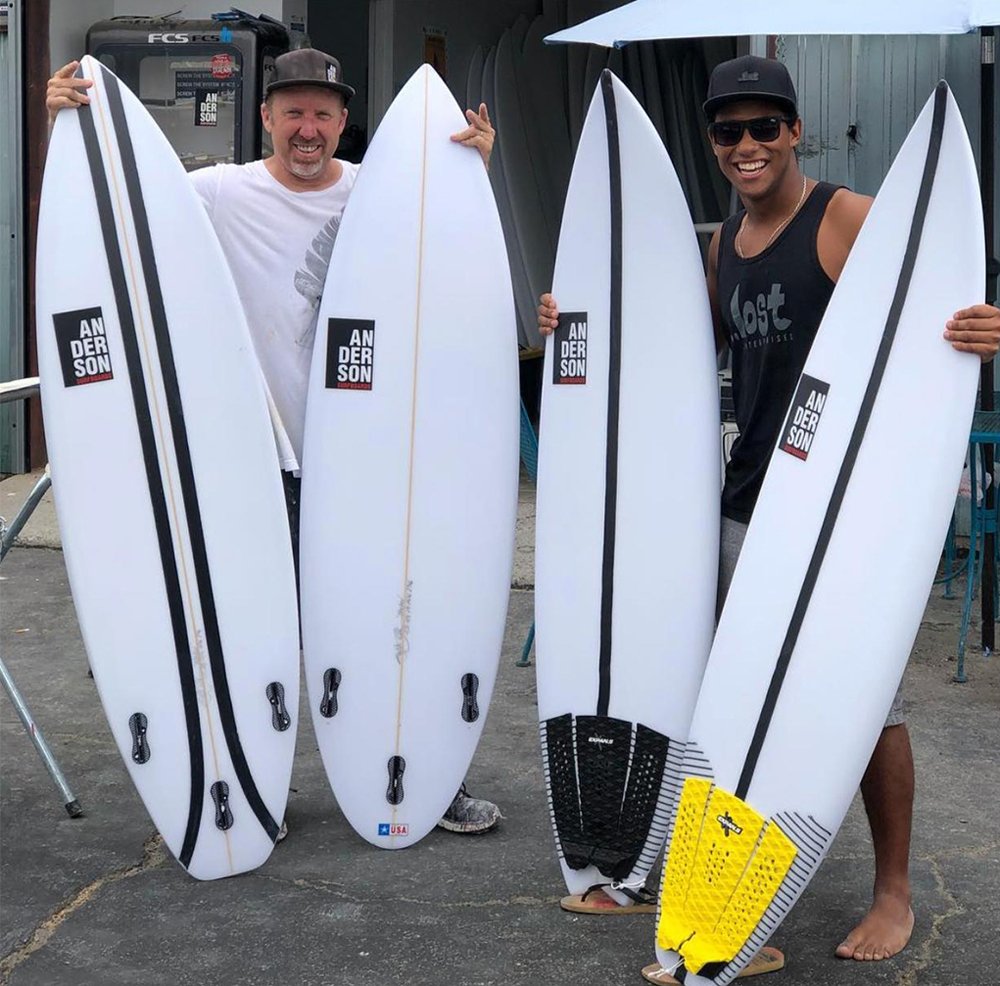 Why let you shaper a board for me…
It's just experience, time, building boards for people all over the world, team riders, amateurs, beginners and I've got a wide variety of shapes and sizes to draw from.
How does that convert to a board I'm gonna be happy with…

I can take a look at what you're riding now and if you tell me what you like about what its doing and what you don't like… and I'll figure out what to do to change that and get you where you're going.
How do South Bay conditions effect the shape of a board…
East Coast boards are different from West Coast and a lot different from Hawaiian. Hawaii you can run concave off the tail. You can put a lot more rocker in them because of the power they have. In CA you need a little bit flatter rocker and a little bit wider. Easy Coast is even mushier and smaller and you have to compensate for that.
Who's riding your boards…
Short boards… Massey, Donnie Wilson, Cap from San Diego and the local groms.
Long boards…Josh Farbou , James Peterson, Oliver Parker,
Run down your shop for me…
Been at this location for 13 years, been building boards for 20. Started in my own back yard. Got my first job working for Natural Progression in Santa Monica working with Dean Edwards, Robbie , Chris Cahill, Michael Olivares, for five years. Moved to Brazil and worked there and in the late '80's to Hawaii
In '88, we started in Gardena, took over The Blade House, a glassing place.
Were a medium shop, two laminators, one hot coater, two glassers, two sanders, two airbrushers, a polisher. We make quite a few boards. We do about sixty boards a week out of here. There're shops that do 120 per week!
You have to wonder where that many boards end up every week…
Surfing in the last few years has really gotten big. The intermediate surfers, the long borders, women are now getting into it more and more which is a great thing. In Brazil every other surfer was a girl in a g-string… It was great! When I came back here, girls in the line up where still getting vibed. But now it's all changed… In the last five years it has (the industry) really doubled.
What has shaping got to do with getting more people in the water…
The fact that not everybody is riding a 6'2″ trifin. People can ride a 7'4″ fun shaper and go out on the weekend and have a great time. The long board is the same thing, you don't have to worry about keepin' in shape or getting out surfed by some kid on a 6'2″. We're not all Kelly Slater's.
Are most of your boards better that the surfer who is riding them…
No, we try and make a board that will progress the surfer. We try and make a board that will help their surfing you know step 'em up a little.
What is the ugliest board you've ever made…
About three years ago we did an old style with a marblesized tint that came out brown… and even it sold! It could be the ugliest thing to me and someone will like it. Boards are individuals. I'll get one back and someone will say, "It doesn't drive." and I give it someone else to ride and ask them to, ya know, figure what we did wrong, and they come back and say, "Fastest board I've ever ridden." (Shrugs)
What is the worst board you ever made..
Probably my first one, I still see people with a board now and then that I made in high school and I say, "Could we just cut that thing up and toss it in the trash!"
How long would it take someone to become a shaper…
It would probably take you a hundred boards. But, you have to take a few years to work on templates, outlines and bottom rockers and tail templates… to accumulate everything you need to know.
Hardest part about making a board…
Glassing, it's all so labor intensive. Shaping is easy compared to the glassing.
Are boards worth what we're paying for them…
It's so under cost. It should be so much more. It's all labor. If you were paying a carpenter you'd be making $25 per hour. These guys don't make that. A snowboard is $500 and it's a pop out mold!
Gimme a commercial, why come to you…
It's just experience, time, building boards for people all over the world. Team riders, amateurs, beginners and I've got a wide variety of shapes and sizes to draw from.
Quality, you'll get a board that has a lot of time and energy in it for a decent value with a lot of knowledge and time in it, a lot of experience.
With your shaping, you've successfully made surfing your lifestyle. Has running a business interfered with your surfing…

No, I do enjoy coming to work. But it becomes a job. You need to produce (shrugs) It's a job.
I'm an intermediate surfer and I don't surf as much as I should, wife, kids business, ya know, it's always harder to get out of the house early.
What happens when you run a business and a swell hits…
My guys disappear. They're going surfin', so am I.
Do the boards get better after the crew has had some wave time…
Yeah, they are more relaxed, a better attitude. These guys (a truck pulls up, It's almost a circus act… how many surfers and boards can fit into one vehicle) are just coming back from their second session at Malibu today.
What kind of customer do you want to see walk through the door…
Well, I'd rather they went to the retailers and got one of our boards there.
The challenge for me is to shape for one of our team riders. Surfers are pretty knowledgeable. They know what they want.
What do you want the world to know about you…
I'm just a board builder. (Thinks about it…) Yeah, just a board builder.
For a killer customade board you can contact Scott @ 310-578-5860
interview by Bob Visty